Suspected BC money launderer won't be charged, special prosecutor says
Lawyer says federal law may need to be changed for money-laundering charges to succeed in court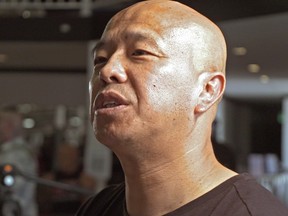 Article content
Despite "highly suspicious" conduct and an illegal money services business, a Richmond man will not face criminal charges, a special prosecutor has decided.
Article content
Lawyer Chris Considine released a "clear statement" Wednesday about why he believes no charges should be laid against Paul King Jin, who is the subject of several civil forfeiture lawsuits filed by the B.C. government.
Article content
Jin survived a 2020 shooting that left his associate Jian Jun Zhu dead. Both had been linked to an earlier money laundering investigation called E-Pirate that led to charges against Zhu, which were later stayed.
Considine said that there was no substantial likelihood of conviction against Jin in part because of ambiguous language in the federal Proceeds of Crime (Money Laundering) and Terrorist Financing Act, which he said should be amended.
Money-laundering cases usually involve proving the cash being laundered has a criminal origin — not just that it was handled by an unlicensed business, he said. He said the law may need to be amended if operation of an unlicensed business was to be considered a money-laundering offence.
Article content
He said he recognizes Ottawa, not the province, has the jurisdiction to make such changes.
"I raise this issue simply as a potential point of discussion with the attorney general's federal counterpart, should the attorney general conclude that a change in the law is desirable."
Considine also noted that a lengthy and complex prosecution could strain the resources of the B.C. Prosecution Service.
"While it is possible that disclosure and translation obligations could become problematic for the Crown from a resource perspective, I am not persuaded these challenges alone are sufficient to justify a decision not to approve charges," he said.
Considine was appointed a year ago to review the B.C. Combined Forces Special Enforcement Unit's investigation into Jin and others — which police called E-Nationalize.
Article content
CFSEU — B.C.'s anti-gang police — sent a report to Crown counsel in 2021 recommending a number of charges against Jin, but the prosecution service later decided that the charge approval threshold had not been met.
David Eby, then the attorney general, requested the appointment of a special prosecutor to review the prosecutorial decision and Considine was appointed in March 2022.
Eby's letter asking for a second opinion said, "Money laundering poses a threat to financial integrity in British Columbia and nationally."
"If there is a viable path to prosecuting Mr. Jin for money laundering or related offences and no prosecution is undertaken, public confidence in the justice system could be damaged. If there is a viable path to a prosecution, it is my opinion that there is a strong public interest in conducting a prosecution."
Article content
Considine, who referred to Jin as "X" in his clear statement, noted that the CFSEU "investigation revealed that between Feb. 4 and May 19, 2017, X received approximately $5.4 million in bulk cash from A and B; provided over $6 million in cash, bank drafts or casino chips to clients; and arranged for the deposit of approximately $7.2 million into the Chinese bank accounts associated to A and B."
"Investigators identified 10 events between the months of February and May 2017 for which the evidence of X's alleged money laundering was most robust. For these 10 transactions, the investigators were able to trace the chain of communications and transfer of funds, demonstrating that the cash obtained by X was the end result of an offshore transfer of funds … the total amount of cash moved by X in these 10 transactions was approximately $2.4 million."
Article content
Considine said that "while the evidence, taken together, paints a highly suspicious portrait of A's and B's operations, suspicion alone is not sufficient to prove a predicate offence beyond reasonable doubt."
Normally charges are only approved in B.C. if there is a substantial likelihood of conviction. However, Considine said he also reviewed the evidence on the lesser test of a reasonable likelihood.
"I have asked myself whether I could lay these charges with a reasonable expectation of a conviction as a potential outcome, informed by my previous experience and common sense. I have concluded that I cannot."
CFSEU Staff Sgt. Lindsey Houghton said Wednesday that "while disappointed in the decision, we appreciate the time that the special prosecutors have taken and attention to detail they have shown in reviewing the investigative holdings."
Article content
"This was one of the most comprehensive money laundering investigations in CFSEU-B. C.'s history, gathered extensive evidence and the charges recommended put current Canadian legislation to the test," he said.
Attorney General Niki Sharma said that legislative changes have already been made in B.C. so it is "tougher now to get away with money laundering. We've changed a whole series of laws including civil forfeiture and we're continuing to update the laws."
With a file from Katie DeRosa
---
Support our journalism: Our in-depth journalism is possible thanks to the support of our subscribers. For just $3.50 per week, you can get unlimited, ad-lite access to The Vancouver Sun, The Province, National Post and 13 other Canadian news sites. Support us by subscribing today: The Vancouver Sun | The Province.
Accused seek to dismiss $9.5-million forfeiture case linked to alleged money launderer Paul King Jin

B.C. property ownership registry in full effect, but will take years to 'mature'

New B.C. law to target source of luxury wealth in money laundering crackdown

link